Cutting Edge Features to Improve Your Deliveries
From easy-to-use mobile apps, to live map view, location-based delivery tracking, and automatic customer notifications, Detrack helps you achieve more with less.
Utilize Instant Route Optimization for Large Fleets
Save time when you plan hundreds of routes in mere seconds with ElasticRoute. What could take your dispatch team hours is now the click of a button. Optimize your routes in moments, then seamlessly transfer them to your existing Detrack workflow for last mile tracking. It couldn't be easier.
Plan and optimize thousands of routes in seconds
Get a reliable, accurate ETA for every delivery stop.
Notify Your Customers Instantly With Tap to Track
Delight your customers with live Uber-style delivery tracking. Keep them informed and enjoy reduced failed deliveries. Use Tap to Track to allow customers to track their own deliveries. Reduce customer anxieties and deliver the best service possible.
Improve your customer service to enjoy return business.
Reduce customer enquiries by letting them see for themselves.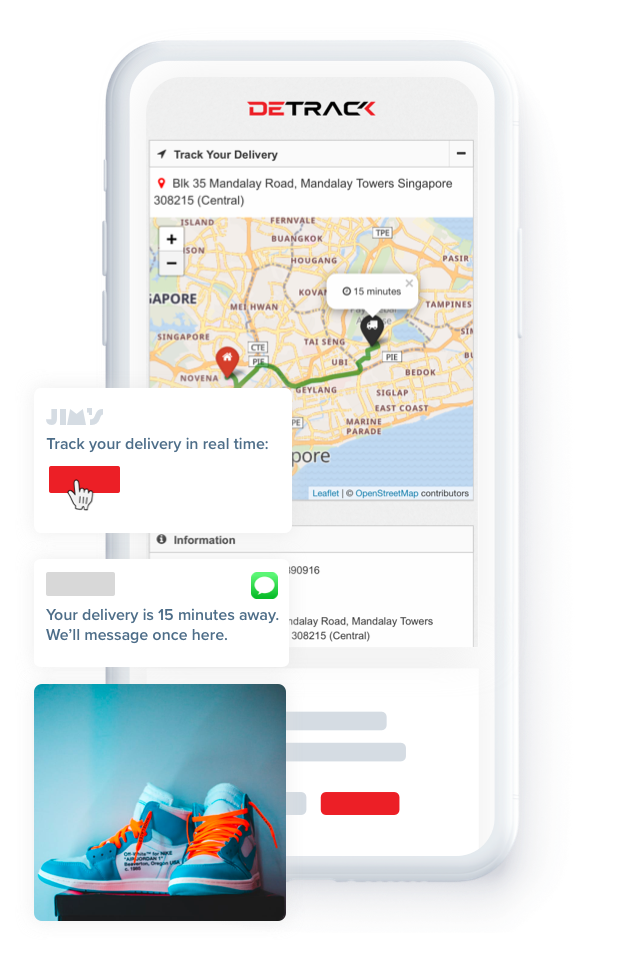 Put Safety First With Contactless Delivery
Don't leave safety to chance. Use Detrack to offer a range of different contactless delivery options. They're easy to implement, so you can start protecting your drivers and customers fast. And when every moment counts, you'll save time too. 
Protect your drivers — even with dozens of drop offs each day.
Use contactless signing options to save precious time on the doorstep.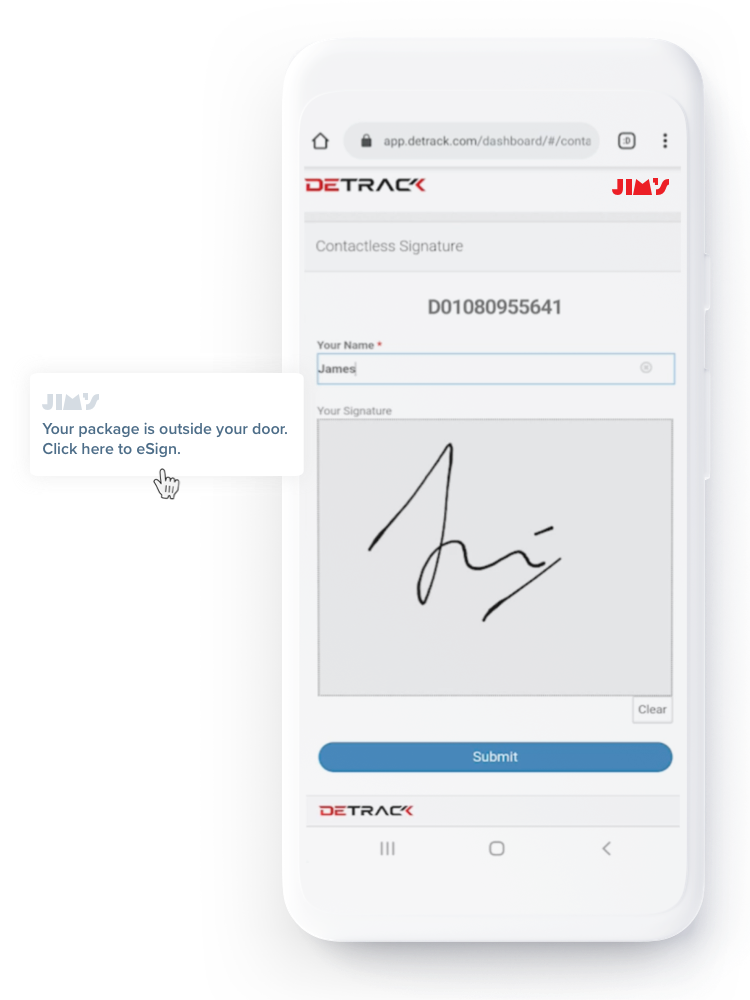 Eliminate paperwork with our E-POD
Detrack offers easy-to-use mobile apps for iOS and Android that lets you track vehicles and deliveries instantly. Say goodbye to paper PODs and begin storing your proof of deliveries in the cloud. Accessible anywhere, anytime.
Easily retrieve PODs and keep track of deliveries.
Save administrative labor with our intuitive system.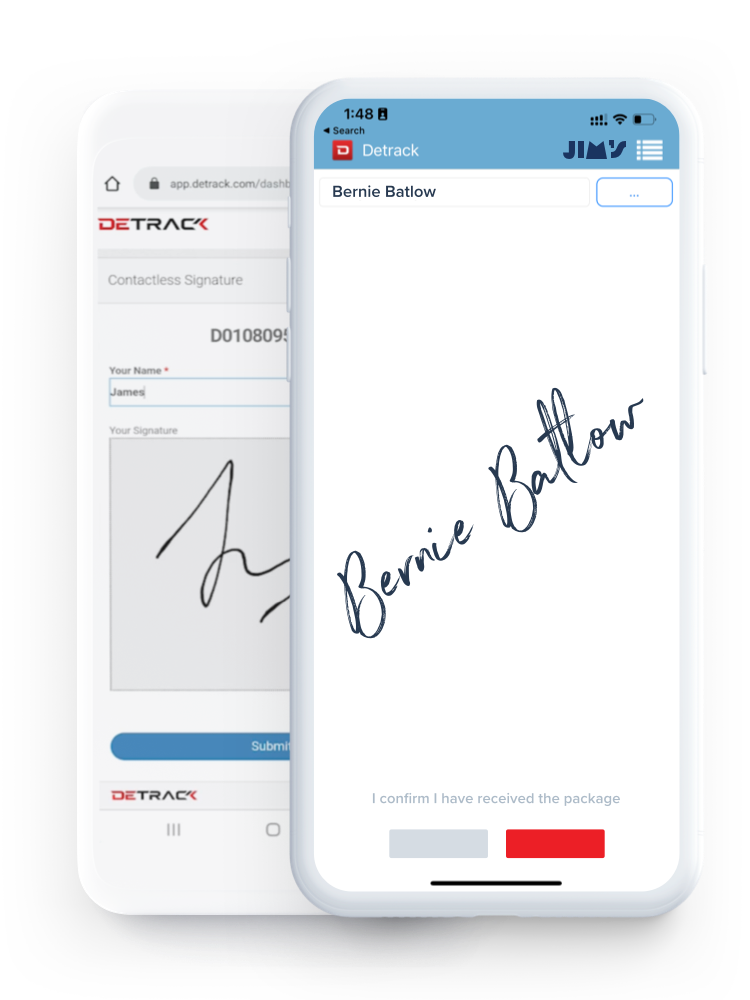 Capture Detailed and Versatile POD
Use Detrack to log accurate time stamps and geo tags, regardless of whether you have Internet at the doorstep or not. Capture multiple photo proofs, itemized photo proof, or set your own POD requirements according to need. It's proof of delivery you can rely on.
Capture reliable POD for every delivery, with or without the Internet.
Customize your POD requirements according to your business' or customer's needs.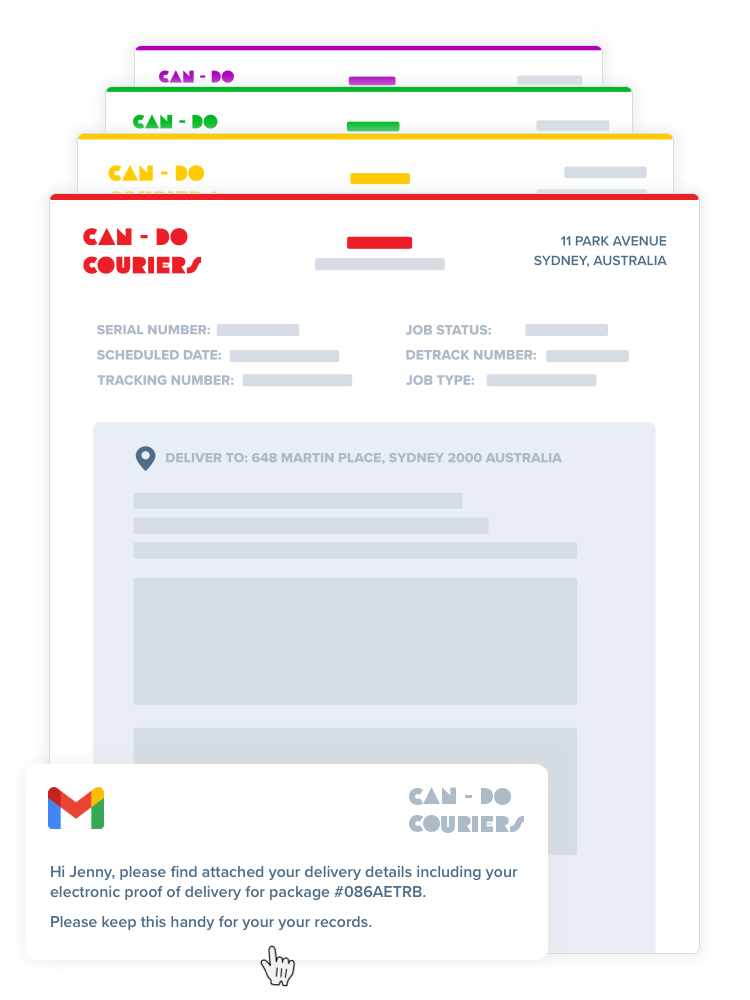 Keep Contract Customers in the Know
Run a 3PL or Courier business? Set up sub-user accounts for your contract customers or different departments. Keep your customer's CSO and finance team in the loop with instant access to their business' POD data.
Offer full last mile visibility to your valued customers.
Save time and money spent on tedious communications.
See how Mansco went paperless with Detrack's support.
SGS Logistics increased customer satisfaction through cutting edge delivery management tech.
Electronic Proof of Delivery
Never lose track of a paper document again. Use electronic PODs to record your deliveries. Access your important records from anywhere in the world and recall historical PODs in seconds, no filing system necessary.
Personal Data Protection
Feel safe using Detrack. We are 1SO27001 information security certified, and offer a range of features to protect you while you're using our service. Enable 2 factor authentication, or opt to mask full personal information while still letting your recipients track their deliveries.
Last Mile Delivery Management
Streamline last mile delivery with Detrack's range of features. Including easy tracking, contactless delivery, and sign on glass. Use GPS technology and route optimization to reduce time on the roads, and allow customers to trace their deliveries with maximum accuracy.
Superior Data Management
Keep track of your data and important documents through a single system. Access new information on driver performance and behavior, and improve business health by tracking key KPIs. Make administration easy by accessing historical PODs in seconds.
Affordable Pricing
Contract-free subscriptions and upfront annual payments: Detrack has three price plans to suit your needs. Want to implement our system? There's no expensive hardware needed, just download our app for android or iOS and go.
Scalable To Your Needs
Whether you're a transport enterprise or just getting started, Detrack can help. With services that scale with you, Detrack can support your business' growth. Manage a small fleet with our route planner  or a fleet of hundreds with our elastic route integrations.
Unlimited Sub-users
Business is booming? No problem. Detracks allow you to add unlimited sub users, so you can share important information with as many customers, managers, CSOs and dispatchers as you like. Assign similar users to groups to view the same jobs.
Detrack has everything you need for better deliveries
Enjoy the ability to extend and customize your workflows with our powerful API. Want to discuss specifics? Schedule a call with us today.
Easily communicate with your drivers. Send jobs and routes directly to their mobile app.
Capture Signature
Allow customers to sign-on-glass for easy e-PODs
Capture Photo Proof
Document arrival, setup, damaged goods, and more.
Geotags and Timestamps
Even with no Internet, capture accurate POD with time and location.
Include Delivery Items
View and manage items for each job and stay in the know.
Scan QR / Barcodes
Search for any job / item and capture serial numbers from labels.
Capture Extra Fields
Capture other fields such as weight, temperature, and more.
iOS / Android Solution
No expensive hardware needed. Start tracking with any iPhone or Android phone.
Very Easy To Use
User friendly app with big colored buttons that lets your driver simply tap to deliver.
Display Your Logo
Expose your brand when customers sign for deliveries.
Mobile Job Dispatch
Dispatch jobs directly to driver's phones via the cloud.
Push Notifications
Sudden changes? Send your drivers real-time updates directly to their phone.
Delivery Instructions
Easily communicate changes via the mobile app.
Link Attachments
Link to a URL or remote document for every job.
Support Collections
Detrack supports both collections (pick-ups) and deliveries.
Courier Mode
Link a collection and delivery job together as a single courier job.
Complete Marketplace Jobs
Claim unassigned jobs through the app.
Transfer Jobs
Transfer jobs between drivers with just a few clicks.
Smart Sort
The jobs nearest your driver will be at the top for fast access.
Send Pre-Delivery Text
Give customers accurate ETAs in a few taps.
Voice Navigation
Navigate using Google Maps, Apple Maps, or Waze & Sygic (truck)
Tap To Call
Simply tap a button to call the recipient for help / confirmation.
Capture Milestones
Capture important milestones such as arrived at / heading to delivery locations.
Mass POD
Repeat jobs for the same recipient? Sign just one POD.
Cash On Delivery (COD)
Collect cash securely and enforce entering of amount collected.
Use Custom Reasons
Select from your own list of non-delivery reasons and item rejection reasons.
Change Item Quantity
Change original item quantity to reflect actual quantity delivered or collected
Driver's Notes
Record driver's notes or customer feedback in the app.
Reattempt Jobs
Reattempt failed or completed jobs and keep PODs for all attempts made.
Cached Job List
Works even in areas with poor or no internet or mobile data connection.
And Many More
Scan to search, view updated jobs, select from gallery, tap to text, and many more.
Stay in control and enjoy an overview of operations with specialized admin features.
Electronic Proof Of Delivery
Receive real-time POD with signature and photos the moment a job is completed.
Brand Your POD
Your customers will see your logo on their POD.
Vehicle Tracking
Track your vehicle's current location, speed and distance anytime, anywhere.
Live Map View
Monitor all your vehicles on a single map, updated live to the minute.
Track On Your Website
Our Tracking Widget lets your customers track their deliveries on your website.
Instant Notifications
Get real-time email updates on your delivery — for you and your customers.
Email Templates
Customize your email notifications to suit your organization's needs.
Import CSV / Excel
Import your existing CSV / Excel delivery manifest file into Detrack.
Match Excel Import Headers
We'll match your custom headers for consistency. Don't change your templates.
Allow Unlimited Sub-users
Add unlimited sub-users for your customers, managers, CSOs & Dispatchers.
Calendar View
Quickly review the number of jobs you have for each day with our calendar view.
Assign User Groups
Assign users to groups so they can only view jobs belonging to the same group.
Search and Filter
Customer service reps can retrieve historical jobs with ease.
Open Jobs to Marketplace
Open unassigned jobs to the marketplace for your selected drivers to grab.
Auto-Reschedule
Leftover jobs? Automatically roll them over to tomorrow.
Sort Driver's Jobs
Drag and drop jobs for each driver — it'll show up on their phone.
Driver's Route Logs
Review where your drivers have been with downloadable logs.
Address Book
Add regular customers as contacts to save precious admin time.
Export to CSV / Excel / PDF
Reporting and analysis is made simple by our export options.
Scalable To Your Needs
Track one to hundreds or thousands of jobs. We are ready to grow with you.
API Integration
Integrate your WMS or ERP with us via our API.
Track On The Go
Access your dashboard from any web enabled device.
256-Bit SSL Encryption
On all communication channels between you and our servers.
Tested & Proven Globally
We process hundreds of thousands of locations, photos and jobs globally every day.
Affordable Pricing
Track unlimited deliveries and PODs at a flat monthly fee of $20 / driver.
And Many More
Mass update jobs, print barcode on POD, initial status, hide items, and many more.
Read the case studies to see how other businesses are leveraging Detrack to improve productivity, profitability and delight customers.
Easily manage your deliveries — start live tracking your fleet and sending instant E-POD today.
Your first driver is free forever.