Put Safety First With Contactless Delivery
Leaving safety to chance should never be an option. That's why Detrack offers you a range of different contactless delivery workflows; they're easy to implement, so you can start protecting your drivers and customers fast.
Your first driver is FREE – forever.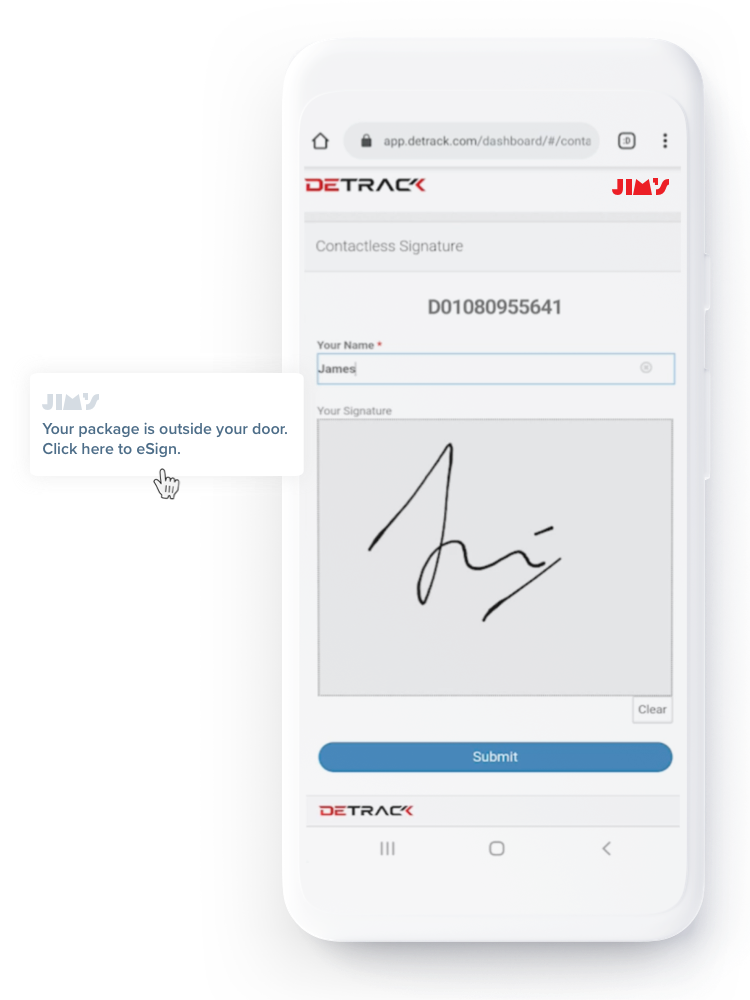 Keep Drivers Safe
With contactless delivery, drivers can stay protected as they work — even if they're making dozens of drop offs each day.
Go Paperless
Leave on-paper signatures and PODs behind and invest in a paperless solution for your business.
Sign with Ease
Sign quickly and easily with a range of contactless signing options, and save precious time when every minute counts.
Our customers now have such a smooth and uncomplicated experience when they need to keep track of their deliveries. They feel secure knowing that their deliveries are in good, reliable hands. Our customers currently have more involvement and control with their deliveries with the Detrack system, which ultimately makes them happy as well.
Totally amazing app. This is a game changer especially for SMEs in the last mile transportation industry. If there is more to come I can't wait. This app single handedly made a difference in how we operate and how customers dealt with us. The app was easy for our drivers to use and the dashboard was quick and easy to customize for our business. Customers loved the fact that they got notifications of their delivery and the details of it almost in real time.
With Detrack's range of features, contactless delivery is made easy and intuitive. Leave behind time consuming exchanges and flimsy paper PODs and discover how contactless delivery can maximize your business' efficiency.
Maintain Social Distancing
Two years + into the Covid-19 pandemic, it's never been more important to make sure that your workforce is abiding by social distancing recommendations. Help protect the most vulnerable part of your workforce, and your vulnerable customers, by maintaining a safe distance. 
In the modern world, there are so many better ways to sign than with a pen on paper. Using Detrack, you can give your customers the option to sign for their deliveries using SMS. Alternatively, they can scan a QR code to sign on someone else's behalf. 
Confirming that a delivery was made doesn't have to be challenging (and no longer requires paper documents). Take up to 10 photo proofs of your delivery to protect you and your drivers, and have the option to capture the confirmation screen after the recipient has signed. 
How Detrack Solved Teak & Mahogany's Logistics Problems
How PAN Logistics used Detrack to provide Customers with PODs
SGS Logistics Offers Customers Driver Management Tech
Mansco goes Paperless with Detrack
Eliminate Paperwork with E-POD
Capture signatures easily by signing on glass. Save time, prevent disputes, and reduce your company's carbon footprint with real-time E-POD. Crush paper delivery orders with an automated E-POD from the moment a job is completed.
Send Real-Time Customer Notifications
Keep your customers in the loop with real-time notifications sent via email or SMS. Automatically let them know when their package is pre-delivery, en route, or has arrived (and more). You'll give better customer service and reduce those endless enquiries.
Impress Customers with Tap To Track
Delight customers while reducing support calls and missed deliveries with live Uber-style delivery tracking. Customers will be able to see visuals of the driver icon moving live on the map with an ETA starting from when the driver starts their journey, keeping them informed of the whole process.
Bring your Brand to Life with Customizable E-PODs
Differentiate your brand and make it your own by customizing your E-POD. Customers will see your company logo in the E-POD PDF file that is automatically sent to them once a delivery is completed. Increase brand exposure when customers sign for their deliveries.
Gain Valuable Insights with Customer Feedback
Record customer feedback easily upon collection or delivery. Collect valuable feedback and know just how your customers feel about your product and service. These will be submitted together with the captured POD back to the Detrack dashboard in real time.
Stay in Control With Admin Visibility
Get notified whenever there are failed or partially completed deliveries with live updates on the admin color-coded dashboard screen, making it easy to monitor the statuses for the day's deliveries. Stay on top of every job and resolve delivery issues swiftly before they turn into major problems.
Keep Everyone Safe With Contactless Delivery
Leaving safety to chance is never an option. Easily implement Contactless Delivery workflows so both your drivers and customers stay reassured and safe. With Detrack, you can capture important proof of delivery while maintaining social distancing.
Route Planning Made Fast with ElasticRoute
Made using proprietary heuristic algorithms, ElasticRoute is a highly efficient route planning engine capable of producing natural cluster-based routes at record speed according to any complex rules you may have. Enjoy optimized routes ready with the touch of a button.
Experience the full benefits of Detrack's live delivery tracking and electronic proof of deliveries (E-PODs) solution today. Your first driver is FREE - forever. Sign up for a free account or speak with our sales team to get tracking in no time.
Easily manage your deliveries — start live tracking your fleet and sending instant E-POD today.
Your first driver is free forever.