Utilize Instant Route Optimization for Large Fleets
Save time when you plan hundreds of routes in mere seconds with ElasticRoute. What could take your dispatch team hours is now the click of a button. Plan thousands of stops and re-plan routes when things change suddenly.
Get two months free with a Detrack and ElasticRoute annual bundle. See pricing.
Integrated with Detrack
Optimize your routes in moments, then seamlessly transfer them to your existing Detrack workflow for last mile tracking. It couldn't be easier to upgrade to our bundle plan — use Detrack and ElasticRoute combined for powerful, simple delivery management.
Plan and Optimize Thousands of Routes in Seconds
Got a lot of planning to do, and need to work around time windows, driver availability, and more? Get reliable optimized routes automatically, planned according to your needs.
Get an ETA for Each Delivery Stop
Route optimization using ElasticRoute will provide an ETA for every stop on your journey, giving you (and your customers) peace of mind.
ElasticRoute team rocks! Very easy to use and easy to set up new profiles. Workflow improved, deliveries per hour improved 25% and 2 vehicle resources were released!
Very good overall experience. Saves time getting the deliveries out in the morning! ElasticRoute and Detrack work perfectly together without having to export and import using spreadsheets.
Save on fuel and labor costs and increase your profits with optimized routes. ElasticRoute's powerful software plans hundreds of routes for you in mere seconds. Combine that with Detrack's instant proof of delivery, and you get one simple, powerful and efficient delivery management system.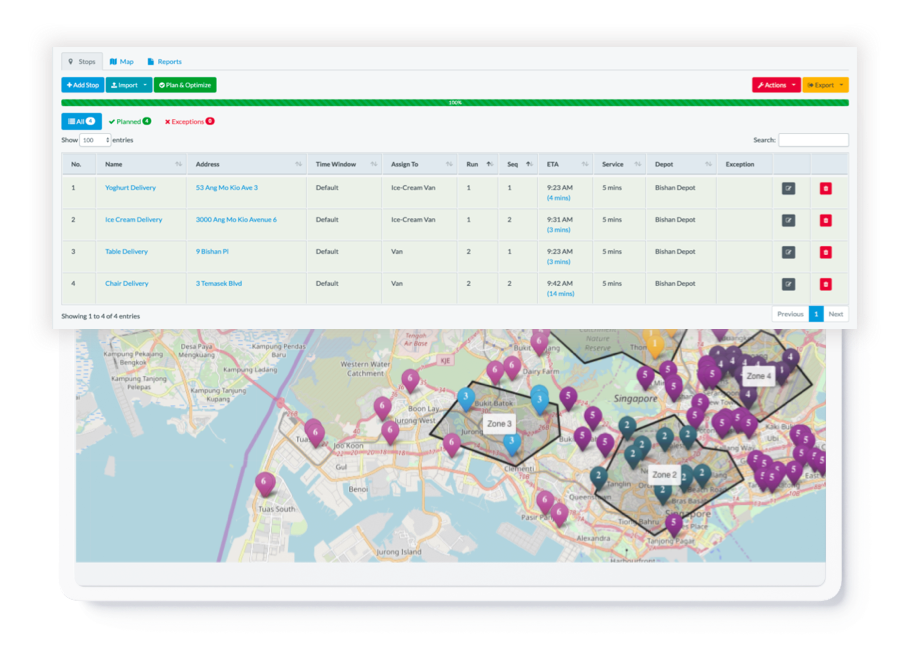 Eliminate manual route planning with Detrack's ElasticRoute
If you have a large fleet, it could take your team hours every day to plan routes manually. Save time and lower your costs by generating optimized, reliable delivery routes in seconds. Use manual override tools to work with clients' special needs. 
Work around your needs with a robust vehicle route planner
Not only can you plan routes in seconds, you can plan them according to constraints such as time frame and assigned zones. Use ElasticRoute with your Detrack account to get more done in a day with the same amount of resources.
Delight your customers, and make management easy
Keep your customers in the loop with accurate ETAs. With automatic notifications triggered by certain events en route, you'll give better customer service, reduce those endless enquiries, and management becomes a breeze.
How Detrack Solved Teak & Mahogany's Logistics Problems
How PAN Logistics used Detrack to provide Customers with PODs
SGS Logistics Offers Customers Driver Management Tech
Mansco goes Paperless with Detrack
Eliminate Paperwork with E-POD
Capture signatures easily by signing on glass. Save time, prevent disputes, and reduce your company's carbon footprint with real-time E-POD. Crush paper delivery orders with an automated E-POD from the moment a job is completed.
Send Real-Time Customer Notifications
Keep your customers in the loop with real-time notifications sent via email or SMS. Automatically let them know when their package is pre-delivery, en route, or has arrived (and more). You'll give better customer service and reduce those endless enquiries.
Impress Customers with Tap To Track
Delight customers while reducing support calls and missed deliveries with live Uber-style delivery tracking. Customers will be able to see visuals of the driver icon moving live on the map with an ETA starting from when the driver starts their journey, keeping them informed of the whole process.
Bring your Brand to Life with Customizable E-PODs
Differentiate your brand and make it your own by customizing your E-POD. Customers will see your company logo in the E-POD PDF file that is automatically sent to them once a delivery is completed. Increase brand exposure when customers sign for their deliveries.
Gain Valuable Insights with Customer Feedback
Record customer feedback easily upon collection or delivery. Collect valuable feedback and know just how your customers feel about your product and service. These will be submitted together with the captured POD back to the Detrack dashboard in real time.
Stay in Control With Admin Visibility
Get notified whenever there are failed or partially completed deliveries with live updates on the admin color-coded dashboard screen, making it easy to monitor the statuses for the day's deliveries. Stay on top of every job and resolve delivery issues swiftly before they turn into major problems.
Keep Everyone Safe With Contactless Delivery
Leaving safety to chance is never an option. Easily implement Contactless Delivery workflows so both your drivers and customers stay reassured and safe. With Detrack, you can capture important proof of delivery while maintaining social distancing.
Route Planning Made Fast with ElasticRoute
Made using proprietary heuristic algorithms, ElasticRoute is a highly efficient route planning engine capable of producing natural cluster-based routes at record speed according to any complex rules you may have. Enjoy optimized routes ready with the touch of a button.
Experience the full benefits of Detrack's live delivery tracking and electronic proof of deliveries (E-PODs) solution today. Your first driver is FREE - forever. Sign up for a free account or speak with our sales team to get tracking in no time.
Easily manage your deliveries — start live tracking your fleet and sending instant E-POD today.
Your first driver is free forever.